African Riches is a slot game focused on African nature. The five reels are located in a beautiful savannah landscape set against a mountainous backdrop. During a gaming session, you will get to experience both nighttime and daytime in the wilderness.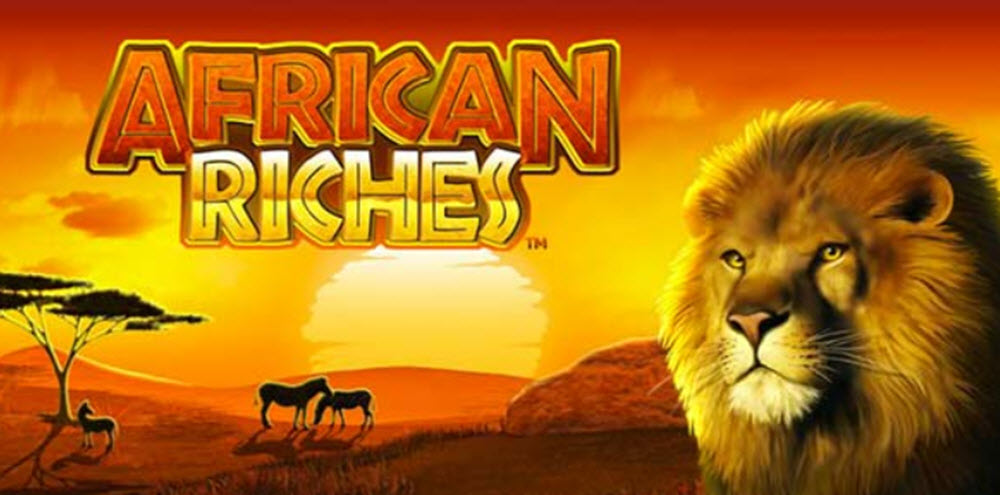 Examples of animals that can show up on the reels are lion, elephant, zebra, wilderbeest, rhinoceros, and cheetah.
Game developer
The slot game African Riches was created by Spielo. Spielo is a small developer and it can be hard to find casinos where you can play spielo games.  At the time I am writing this you can find African riches in Betsson,  Leo Vegas, and Jackpot city casino.
Leo Vegas is the only one of these casinos that I tried.  Leo vegas casino is a good well ran casino.  They feature a lot of bonuses and campaigns for new and returning players alike.  The main reason that I choose Leo vegas is their mobile casino.  LeoVegas mobile casino is the best mobile casino on the market.  The entire casino has been developed with focus on mobile gambling. It is always their main priority.  Most casinos build an online casino and add a mobile casino. Leo Vegas built a mobile casino and added an online casino. This allows Leo Vegas to offer a mobile casino that is a lot better than the competition.
The basics
African Riches is a five-reel slot.
Each reel displays three symbols when it stops spinning.
There are 50 paylines, and you decide how many of them to bet on.
If you want to play faster, click the Speed button.
The diamond is wild
Africa isn't just rich in biodiversity – it is also rich in mineral natural resources such as precious stones. In African Riches, the diamond symbol is wild can replace any standard symbol to help you form a winning combination. It can not replace any of the specialty symbols.
The triple dollar symbol is your key to four bonus features
The triple dollar symbol is a scatter. Get at least three of them, anywhere on the reels, and you will be awarded with coins.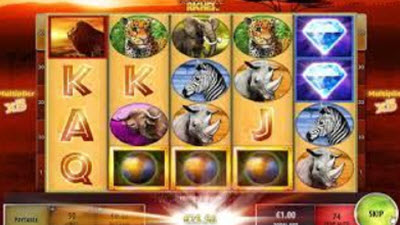 Once you have received the coin win, you will also get to choose between FOUR different bonus rounds:
10 free spins with a high win-multiplier
15 free spins with a medium-sized win-multiplier
20 free spins with a low win-multiplier
The Cup Feature. Guess under which cup the ball is hidden – you might win the African Riches Jackpot!
Trivia: Did you know…?
The African savanna elephant (Loxodonta africana) is the largest extant terrestrial animal, and the largest bulls of this species reach a shoulder height of nearly four meters. Both male and female savanna elephants have tusks. Even though its geographical distribution decreased dramatically in the 20th century, the savanna elephant is still found in many of the African countries, including plenty of West African countries. You can for instance still encounter wild populations in Benin, Burkina Faso, Cote d'Ivoire, Guinea, Guinea-Bissau, Liberia, Niger, Nigeria, Senegal, Sierra Leone, and Togo.
The 968.9-carat "Star of Sierra Leone" is the largest alluvial diamond ever discovered, and it was also one of the world's largest gem-quality diamonds. The diamond, which sported perfect chemical purity, was found by miners in the Diminco alluvial mines in Sierra Leone on Valentine's Day in 1972. The Star of Sierra Leone was purchased by the New York City-based jeweller Harry Winston, who initially had it cut into an emerald shaped stone weighing 143.2 carats. Later, it was recut because of an internal flaw. In total, the Star of Sierra Leone yielded 17 individual finished diamonds, including 13 flawless ones. Six of the diamonds were used by Harry Winston to create a brooch named "The Star of Sierra Leone Brooch".The largest finished gem from the Star of Sierra Leone diamond that exists today is a flawless pear-shaped diamond weighing 53.96 carats.