Burkina Faso, a landlocked country in Western Africa, covers nearly 275,000 square kilometres, and data from 2018 show that almost 20 million people live here.
It was colonized by France in the past, and French is still the official language here, and the main language of government, business and administration. Alongside with French, the indigenous languages Mòoré (Mossi), Fula and Dioula are recognized as national languages.
The country attained independence from France in 1950, when it was still known as the Republic of Upper Volta. In 1984, it was renamed Burkina Faso and the demonym for its citizens was changed to burkinabé.
Examples of international organisations to which Burkina Faso belong:
The United Nations
The International Monetary Fund
The World Bank
The World Trade Organization (WTO)
The African Union (AO)
The West African Economic and Monetary Union (EUMOA)
The Organization for the Harmonization of Business Law in Africa (OHADA)
Where is Burkina Faso?
Burkina Faso has no coastline and is surrounded by six countries:
Mali (to the west and north)
Niger (to the east)
Benin (to the south-east)
Togo (to the south)
Ghana (to the south)
The Ivory Coast (to the south-west)
The economy of Burkina Faso
Currency: West African CFA franc (XOF)
Currency union membership: The West African Economic and Monetary Union (UEMOA: Union économique et monétaire ouest-africaine)
HDI: 0.423 in 2017. This is a low HDI.
Trade organisation memberships: World Trade Organisation (WTO), African Union (AO), EUMOA
Total GDP (PPP): 38,758 billion USD (2018 estimate)
GDP (PPP) per capita: 1,992 USD (2018 estimate)
Total GDP nominal: 14,192 billion USD (2018 estimate)
Nominal GDP per capita: 729 USD (2018 estimate)
GDP growth: 3.9% (2015), 5.9% (2016), 6.4% (2017e), 6.0% (2018f)
GDP by sector in 2017: Services appr. 45%, Agriculture appr. 31%, Industry appr. 24%
Main industries
Cotton
Beverages
Agricultural processing
Soap
Cigarettes
Textiles
Gold
Labour force
The estimated labour force for 2017 was roughly 8.5 million.
A significant chunk of the male Burkina Faso labour force migrates annually to nearby countries to seek seasonal employment.
Exports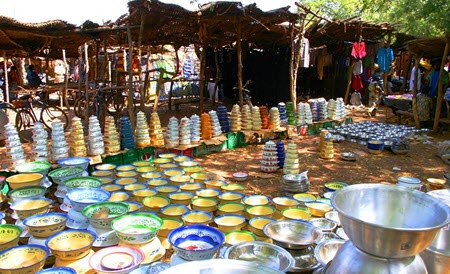 The 2017 export estimate for Burkina Faso was 3.14 billion USD. The main exports were gold, cotton, livestock, and sesame seeds.
A 2018 World Bank report stated that cotton had become the most important cash crop, but also noted that gold exports had increased in recent years.
Estimates from 2013 show that the single largest export destination was the neighbour Benin, which received more than 25% of the exports from Burkina Faso. Togo, another neighbour, accounted for 12% of exports. On third, fourth and fifth place we find destinations much farther away – Japan, Thailand, and Turkey – all receiving slightly more than 5% each of the Burkina Faso exports. Finally, the neighbours Ivory Coast and Ghana both receive between four and five percent of the exports.
Imports
The 2017 import estimate for Burkina Faso was 3.3 billion USD.
The main imports were capital goods, foodstuffs and petroleum.
Estimates from 2013 show that Ivory Coast was the main source of imports to Burkina Faso, accounting for nearly 19% of the imports, followed by the much more distant Pakistan at slightly above 18%. Other notable import partners were Ghana, India, China, and Togo – all accounting for between four and fiver percent of imports, respectively.
Public finances
2017 estimates
Public debt: 38% of GDP
Revenues: 2.7 billion USD
Expenses: 3.7 billion USD
Foreign reserves: 49 million USD on 31 December 2017
Finance & Banking
The financial system is dominated by the banking sector, which accounts for an estimated 90% of total financial system assets in Burkina Faso.
11 banks operate in Burkina Faso. The three largest of them holds nearly 60% of total financial sector assets. Banks in the country tend to have an overexposure to the cotton sector.
5 non-bank financial institutions operate in Burkina Faso
Burkina Faso is a part of the West African Monetary and Economic Union (UMEOA) and the official currency is the CFA franc issued by the Central Bank of the West African States (BCEAO) in Senegal. BCEAO provides regulation and oversight of financial sector and banking activity in the member states. The legal framework for bank activities was reformed significantly in 1999.
Microfinance in all UMEOA countries, including Burkina Faso, is regulated by a separate law.
Insurance
The insurance sector in Burkina Faso is regulated through the Inter-African Conference on Insurance Markets (CIMA).
Tourism
Burkina Faso receives hardly any money from tourism, and tourism is largely non-existent in most of the country. Several foreign countries, including the USA, warn their citizens against visiting large parts of Burkina Faso – including the northern Sahel border region and the provinces of Kmoandjari, Tapoa, Kompienga, and Gourma in the east – due to terrorism and violent crime.
Overview
Over 80% of the population relies on subsistence farming. Examples of problems facing the farmers are poor and fragile soils and highly variable rainfall.
The economy of Burkina Faso is commonly described as stagnant, although the World Bank categorized the economic outlook as short and medium term favourable in their 2017 report, while noting the economy's sensitivity to increased oil prices and decreased prices of gold and cotton. Terrorism and labour strikes were also pointed out as notable risks.
The list of challenges includes the low literacy rate and the lack of infrastructure, including transportation infrastructure. The industry in Burkina Faso is dominated by government-controlled corporation that rarely yields a profit.
In 2017, the government still relied heavily on financial aid and foreign loans to finance the debt. Financing was achieved through a combination of concessional aid and borrowing on the regional market.
Inflation in 2017 was low (just 0.4%) but the public deficit grew from 3.5% in 2016 to 7.7% in 2017. The World Bank has reported an economic growth of 6.4% in 2017 (compared to 5.9% in 2016). The main driver of this growth was gold production and increased infrastructure investments.
Mining
In 2011, gold production increased at six gold mine sites in the country, making Burkina Faso the fourth-largest gold producer in Africa (after South Africa, Mali and Ghana).
Examples of other elements and compounds mined in Burkina Faso are copper, iron, and manganese, as well as the tin oxide mineral cassiterite.
A report from 2018 shows that 55 tonnes of gold were exported from Burkina Faso that year, which was a two-thirds increase compared to 2013.
Short facts about Burkina Faso
Size: 274,200 km2 (of which less than 0.2% is water)
Population: Over 20,100,000 (2017 estimate)
Capital: Ouagadougou (Coordinates: 12°20′N 1°40′W)
Most populous city: Ouagadougou
Government: Unitary semi-presidential republic
Legislature: National Assembly of Burkina Faso
Independence: 5 August 1960 (from France)
Time zone: UTC+0 (GMT)
Calling code: +226
ISO 3166 code: BF
Internet TLD: bf
Driving side: right
Official language: French
Recognized national languages: Mòoré, Fula, Dioula
Major ethnic groups:
Mossi (nearly half of the total population)
Fula (roughly 10% of the total population)
Lobi (less than 10% of the total population)
Bobo (less than 10% of the total population)
Mandé (less than 10% of the total population)
Senufo (less than 10% of the total population)