The Republic of Senegal, commonly referred to as Senegal, is the westernmost country in the mainland of the Old World and borders to the Atlantic Ocean in the west. It's capital Dakar protrudes out from the rest of the coastline on the Cap-Vert peninsula – making Dakar the westernmost city on the Old World mainland.
Senegal borders Mauritania in the north, Mali in the east, and both Guinea and Guinea-Bissau to the south. The very narrow country The Gambia occupies a sliver of land along the banks of the Gambia River, which makes The Gambia completely surrounded by Senegal except for The Gambia's short coastline on Atlantic Ocean. Thus, The Gambia bisects Senegal in the west (but not in the east), separating Senegal's north-west from the south-west. The part of Senegal located south of The Gambia is named Casamance.
Senegal shares a maritime border with the island nation Cabo Verde (Cape Verde).
How large is Senegal?
The total area is 196,712 km2 , of which 2.1% is water.
How many people live in Senegal?
At the last census, which took place in 2016, the recorded population was 14,668,522.
Economy
Total GDP (PPP): $59.987 billion (2018 estimate)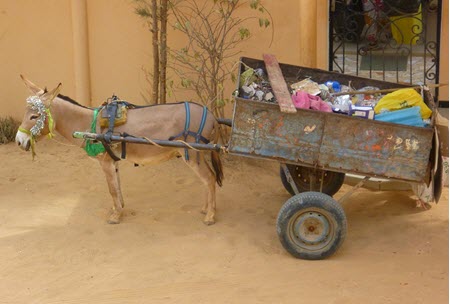 GDP per capita: $3,675 (2018 estimate)
Nominal GDP: $24.240 billion (2018 estimate)
Nominal GDP per capita: $1,485 (2018 estimate)
HDI: 0.505 in 2017 (this is a low HDI score)
Currency: West African CFA franc (XOF)
Examples of notable industries in Senegal
Food processing
Mining
Cement production
Production of artificial fertilizers
Production of industrial chemicals
Textile production
Refining imported petroleum
Tourism
Agriculture
Fishing
Examples of notable export products
Fish
Calcium phosphates
Industrial chemicals
Cotton
Fabrics
Peanuts
Fishing
Senegal has a 12-nautical-mile (22 km) exclusive fishing zone along its coast, but this zone is commonly invaded by foreign fishing trawlers that fish there illegally. The government has tried to curb this practice, and did for instance seize the Russian-registered trawler Oleg Naydenov in early 2014. Yet, it is estimated that around 300,000 tonnes of fish is removed illegally from these waters by foreign trawlers each year, causing damage to the Senegalese fishing industry.
Information technology
In the mid-1990s, improved Internet connectivity caused a mini-boom in information technology-based services in Senegal.
Aid
Senegal is a major recipient of foreign development assistance. Examples of notable donor countries are the United States, Japan, France, and China.
The economic reform of the 1990s
After an economic contraction in 1993, Senegal embarked on a major economic reform program with support from international donors. Key components were currency devaluation, dismantling of subsidies and dismantling of governmental price controls. The reform program was followed by decreased inflation and increased investments, and in the period 1995 – 2001, the GDP rose by roughly 5% per year.